NEW TIPPERS AT TRAILNED
Standard Tippers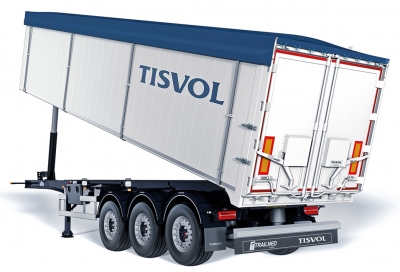 • Low weight
• Functional design
The diversity of cargo in the transport of loose goods requires a good, reliable tipper: a trailer with functional options, a maximum volume and a low tare weight.
Tippers with a steel chassis and an aluminium construction for volumes ranging from 20m3 to 70m3. The smaller standard "straight tipping trailer bodies" are used mainly for the bulk transport of asphalt, sand, gravel and similar heavy bulk goods. The larger trailer bodies with a higher capacity are used for lighter goods such as cereals, corn, wood, various types of fruit and beets. The transport of scrap is also a possibility using the Hardox construction.
If you are interested and would like further information about these tippers, please contact us on +31 (0) 493 32 77 77 or info@trailned.nl

Tailor-made tippers
• Your work
• Our ideas
Sometimes special tippers are needed to achieve as high a return as possible. With your ideas and our advice we will together arrive at a well-thought-through solution for your transport challenge. Your own design will provide you with the best combination of loading capacity, volume, stability and speed in your day-to-day work.
If you are enthusiastic and would like advice you can do something with, please contact us on +31 (0) 493 32 77 77 or info@trailned.nl